Die einzigartigen Fotos von Michael Flume werden durch die 3D-Brille zum Kino auf Papier, so dass
der Betrachter das zweitgrösste Openair-Tattoo der Welt greifbar erleben kann...weiterlesen...


These one of a kind photos by Michael Flume bring a cinematic experience to paper with the 3D glasses. Reach out and
touch the second largest open air Tattoo in the world...read more...
Was kittet Basel, die Baslerinnen und Basler, zusammen? Richtig: die Fasnacht und der FCB. Also schauen
wir uns die Fasnacht einmal durch die rot/blaue Brille an. Das bringt eine überraschende neue Dimension in unsere Fasnacht...weiterlesen...
What ties Basel's people to their city? The answer is: the carnival and the FCB (Basel's football/soccer team). Now have a look at
the Basel Fasnacht through these red and blue 3D glasses. This will bring a surprising new dimension to our carnival... read more...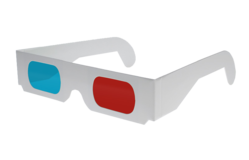 Unser Basel